A Comparison of Accommodation for Your Vacation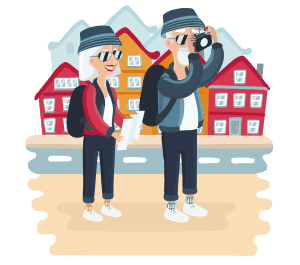 It is worthwhile to study and compare the merits and demerits of various holiday accommodations to make the right choice before going on your vacation. When planning a vacation, most people straightaway think of checking into a hotel with their families.
With so many attractive combo (airplane + hotel + car rental) packages out there, it is but understandable that you easily pick one of them without bothering to study the alternatives.
But today there are other lodging options – equally attractive or even more attractive – that should merit your consideration. Vacation rentals, for instance, offer several amenities and comforts that the majority of hotels may not provide. A vacation rental is a fully furnished property, such as a holiday cottage, condominium, town home or single-family-style home, often referred to as villa rentals.
First of all, vacation rentals provide you with full-fledged kitchens, living room and multiple bedrooms. You can find condominiums or houses or apartments or detached holiday homes where you can enjoy total privacy.
Most vacation villas will provide you with air conditioners, fire place, flat televisions, DVD, heaters, and even computers with Internet connection. Vacation rentals will be well-furnished and instead of sitting on beds to watch TV or sharing the two chairs at a small table, you will have adequate furniture in your living and dining areas.
You can find vacation rentals in the middle of the city with easy access to shopping centers, restaurants, transportation etc. You can also find vacation rentals in peripheral areas that will ensure peace and quiet.
If your family is large or you are traveling as part of a large group, you may be compelled to avail multiple rooms in a hotel and that can be costly and it will also mean a lot of coordination problems. It has to be stated that with hotels, you invariably get the same stereotype ambience no matter which part of the world you plan to go for vacation.
If you and your family members are keen to stay at a place that embraces the culture of the local area, a vacation should be the obvious choice. Vacation rental is a home away from home and living together under one roof will be an opportunity for greater bonding. The vacation homes will be a lot more pleasant and cozier than the starkness of most hotel rooms.
But it has to be admitted that there are a few downsides to vacation rentals. First of all, finding the right vacation home can involve a bit of internet research whereas hotel accommodation can simply be booked through a web site that offers travel package deals.
Again, because vacation homes are privately owned properties, the service can be at times sub-standard and faulty. Remember that not all vacation rental owners run web sites, and it may take time for the proprietors to respond unless they have tied up with a management company.
Most vacation homes are far too spacious and if your family is small, you will develop a feeling of loneliness. Further the premises will be clean when you arrive but can not expect someone to come in and change your sheets every day.
As you can see, there are merits and demerits for both hotels as well as vacation rentals. Make sure that you weigh the pros and cons of both options before deciding finally where you wish to stay during your vacation.